Reilly's Treasured Gold, Inc.
290 South Andrews Avenue #9
Pompano Beach, Fl. 33069
Phone 1-954-971-6102
Online ordering is temporarily unavailable
Please phone or email to order.
rtgscoop@gmail.com

Ordering line 1-800-876-6102
(EST) Tuesday - 10:30- 6 Wed/Thurs 10:30 - 5
Friday - noon - 6 Saturday - noon - 4
Sun/Mon - by appointment
Treasure Map To Visit Our Store

Satisfying Customers Since 1980
All types of digging tools, coin probes, pouches, aprons & more.

WILCOX 102 STAINLESS STEEL DIGGING TROWEL (#Wilcox102)
Out of Stock
Price: $13.95
This digging trowel is 12" long overall and made of 16 ga. stainless steel. The digging blade is 2" wide. The trowel has a depth reading scale on the digging part of the trowel in inches to tell how deep you are digging. Comes with a rubber hand grip for comfort and a leather lanyard. Excellent for digging in all types of dirt and soils. Made in the U.S.A.

---
LESCHE DIGGING TOOL (#LDT10)
Price: $43.95

A new an excellent digging tool made for the treasure hunter. Dig through any soil conditions fast to retrieve your treasure! It looks like a knife and has saw teeth edge on one side of blade to cut through roots and tuff grass. The digging tool has a comfortable rubber grip handle with hand guard plate. The hand guard plate is to protect your hand from sliding down on the digging part of the tool. Designed to cut plugs in soil quickly. The digger is 12" overall. Comes with a handy Cadorra Belt sheath with a plastic insert to carry this digging tool. Try on of these fine digging tools out today for yourself, itís great! The Lesche Digging Tool is also a great gardening tool too!


---
Treasure Wise 3 in 1 Knife w/Sheath (#TW3in1)
Our price: $24.95

Here is our new style 3 in 1 Digging Knife made by Treasure Wise Products. A new excellent digging tool for all types of soil conditions. It's a knife for cutting plugs in the grass, saw teeth on one edge for sawing through tree & shrubbery roots and a concave blade for digging in the dirt like a shovel. Heavy steel constructed, comfortable plastic handle and comes with a heavy duty leather sheath. Overall length 11", cutting blade is 6-1/4" long. One of the most popular digging tools around, just got better. Try one out yourself and see why this digging tool is an excellent knife to use. The leather sheath is 12" long by 4" wide. There are 2 2-1/4" long slits on the leather sheath for a belt to slide through. The sheath is stitched with heavy stitching. The leather sheath is made in the U.S.A.

---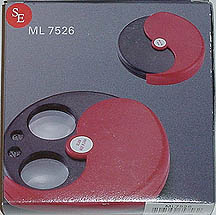 ADJUSTABLE MAGNIFIER (#ML-7526)
Price:$9.95

Here is a very unique magnifying glass. This magnifying glass rotates in the protective plastic housing. 2 different magnifying lenses lets you see at different levels of magnifications. To operate the magnifying glass all you need to do is spin the glass out of the holder, then on the side of the case you would slide the lenses to show you the different magnifications. This is really a unique magnifying glass that we have scene since we started our business. Magnification ranges from 5 power to 12 power. You'll need to add one of these magnifiers to your tool box for all your needs.


---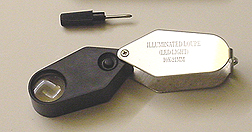 ILLUMINATED MAGNIFIER LOUPE (#MG2110-LED)
Price:$11.95

Here is an illuminated magnifier loupe that folds out of the protective metal casing. A push button switch allows you to turn on or leave off the LED light that brightens up the item you are looking at through the lens. A small philips head screw driver comes with the magnifier to open the housing up to change the battery when needed. Both the magnifying loupe and the screw driver comes neatly packed in a plastic case to keep the magnifier and screw driver together. Magnification of this loupe is 10 power. Carry this with you where ever you may go when you need to look at something small.


---

10" PISTOL GRIP COIN PROBE (#10yellow)
$10 MINIMUM ORDER
Sale $4.95

Get a firm grip with this new 10" pistol grip coin probe. Now you can put your weight behind this pistol grip coin probe to push it into the ground and focus on the target. The yellow handle has finger grips to form in your hand for comfort. The coin probe is 10" long. An excellent tool to probe into the ground to locate your targets.
---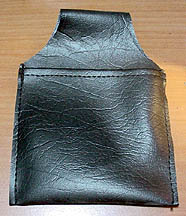 RTG COIN POCKET (#RTGCoinPocket)
$10 MINIMUM ORDER
Price: $4.00
Here is a new pouch added to our line. This new coin pocket fits on any 2" wide belt. The pouch is made of grain looking vinyl. The RTG Coin Pocket pouch size is about 5" wide by about 4-1/2" high. Overall size is about 5" wide by about 6-1/2" high. This great little pocket is very easy to carry your finds in while out metal detecting. A must for all metal detectorists. If needed you can use the pouch to hold cell phone or digital camera while out metal detecting. Made in the U.S.A.
---

ORIGINAL VELCRO COIN/TREASURE SAND POUCH
(#736)
Our new price: $19.95

This coin/treasure sand pouch is made with a waterproof material. There is a velcro closure at the top of the bag to keep your treasures in the bag from falling out. It is made to be worn on a belt up to 2" wide. This pouch is 9" wide by 12" long. This pouch can be used for all types of detectorists including the water hunters. Also made for the scuba divers as a recovery bag. Don't drag dirt or sand into your house again. Wash off your finds outside before going into the house. This sand pouch is made of top quality by a professional water hunter who knows the need for a great treasure pouch. Pouch is made in the U.S.A.
---
METAL DETECTOR POUCH AND BELT COMBO
(#MDB736)
Our new price: $23.95

This combo set of the model #736 Original Velcro Coin/Treasure Pouch and the model #MDB Metal Detector Belt is a great deal we are selling as a combo kit. You save when you buy both of these items together. You can also use the belt for other pouches and digging sheaths you'd like to add to the kit. Both items are made in the U.S.A.




---
METAL DETECTOR BELT
(#MDB)
Our new price: $9.95

Here is the metal detector belt for you to use on the Original Velcro Coin/Treasure Pouch above. This 2" wide belt is about 54" long and adjustable. It has a plastic lock clasp on it secure the belt around your waist. This belt size can fit most people. Metal detector belt is made in the U.S.A.
You can use this belt for all types of pouches and digging sheaths.




---
Website by Papertique / Graphiquedujour