Minelab GO-FIND Metal Detectors
The GO-FIND series will allow new detectorists to easily pick up the popular hobby without the large investment and numerous advanced features of our professional detectors, but also without sacrificing quality," said Gary Schafer, General Manager of Worldwide Consumer Markets for Minelab Electronics. "These high quality, durable and sleek detectors far surpass any other low-price detector on the market.
Minelab X-Terra 705 New Lower Price$
Click Here for Specs & Ordering
With the X-Terra 705 you will have the option of a Low 3khz, Standard 7.5khz or high 18.79khz coils. Maximized depth and gold nugget hunting capabilities.


Minelab X-Terra 505 New Lower Price$
Click Here For Specs & Ordering
Minelab X-Terra 305 New Lower Price$
Click Here For Specs & Ordering
VFLEX - Minelab's new single frequency technology:
It's Clever... yet simple to use:
2 Detectors in 1

Find elusive sub-gram nuggets on land & underwater!
SDC 2300 Gold Prospecting Detector
The SDC 2300 is a high performance mid-range gold detector, perfect for chasing down those elusive sub-gram nuggets on land and underwater. This compact waterproof detector comes with easy-to-use controls and is assembly-free.
Minelab GPZ 7000 Gold Prospecting Detector
Minelab are delighted to announce the most eagerly anticipated GOLD detector, the industry leading GPZ 7000.
The GPZ 7000 represents the future of Gold detection! The product is currently in the process of a phased release plan across Gold Mining markets.
The GPZ 7000 takes GOLD detection technology to a whole new level with market leading performance
and new technological innovations from Minelab – the company that knows GOLD!
Minelab GPX-5000 Gold Prospecting Metal Detector
The GPX 5000 sets the new benchmark in gold detecting technology. With an amazing range of features and functions the GPX 5000 is not only superior to its predecessor, the GPX-4500, and is in a class of its own. Featuring Minelab's exclusive technologies, Multi Period Sensing (MPS), Dual Voltage Technology (DVT) and Smart Electronic Timing Alignment (SETA), the high performance GPX 5000 is capable of finding more gold than ever before.
Minelab GPX-4500 Gold Prospecting Metal Detector
NEW LOWER PRICE.... $2699.00
Minelab Excalibur II Underwater
Click Here For Specs & Ordering
BBS 17 frequency technology with full
discrimination on land or up to 200 ft underwater depth
CTX3030 ADVANCED TREASURE TECHNOLOGY
COINS, RELICS, BEACH AND MORE
Waterproof - Wireless Audio - Fe Co Descrimination
GPS Locating - PC Mapping - Full Color Display
See the CTX3030 it here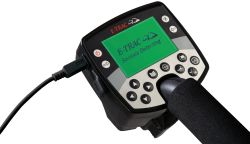 Minelab E-Trac Metal Detector
Click Here for Specs & Ordering
E-Trac Xchange allows you to download and upload detector settings and Discrimination Patterns via USB to your Personal Computer.
- Greater detecting depth
- High sensitivity over a wide range of targets
- Less interference from electromagnetic sources
- More accurate identification of target characteristics
Minelab Safari Metal Detector
Click Here for Specs & Ordering
Safari uses advanced digital filtering to eliminate the influence of ground signals, automatically. Experience easy, seamless detecting whatever the field conditions!
With its High Trash Density setting, Target Ids and audio tones are updated when sweeping over closely spaced targets FAST! This improves the recovery of deeply buried high conductivity targets in a trashy environment and allows you to more accurately identify the type of target found.
Accurate and easy to use, press the pinpoint button and watch the Safari zone-in on the precise location of that precious target.
With four pre-programmed Detect modes, you can choose from Coin; Coin & Jewellery; Relic or All Metal. Each individual mode contains the optimum settings for identifying the characteristics of your preferred targets, allowing you to maximise your time in the field.